Mark Sinatro for Town Council

Photo © Patty Swanson
Mark Sinatro, a local businessman and lifelong resident, is running for West Hartford Town Council on the Republican ticket. This was not a decision that came easily to Mark, but as an avid participant in community service, fund raising and sustainability in charitable value, he feels it is a necessary step to improve the town's leadership and vision.
"My goals as a member of our Town Council will be to CONTAIN OUR GOVERNMENT SPENDING by looking to alternative and creative revenue sources to INCREASE OUR TAX BASE. I am committed to turning this town back into a PREMIER EDUCATIONAL SYSTEM in the state, and I am further committed to taking a proactive approach concerning the SAFETY OF OUR RESIDENTS."
From a family whose local business interests have required a solid understanding and anticipation of the community's needs, Mark is ready, willing and able to participate. In his charitable activities, Mark has demonstrated that Leadership and Vision are essential to success. He has demonstrated that Leadership and Vision to the benefit of numerous charitable benefactors and now wishes to have all of the sixty thousand West Hartford residents become the beneficiaries.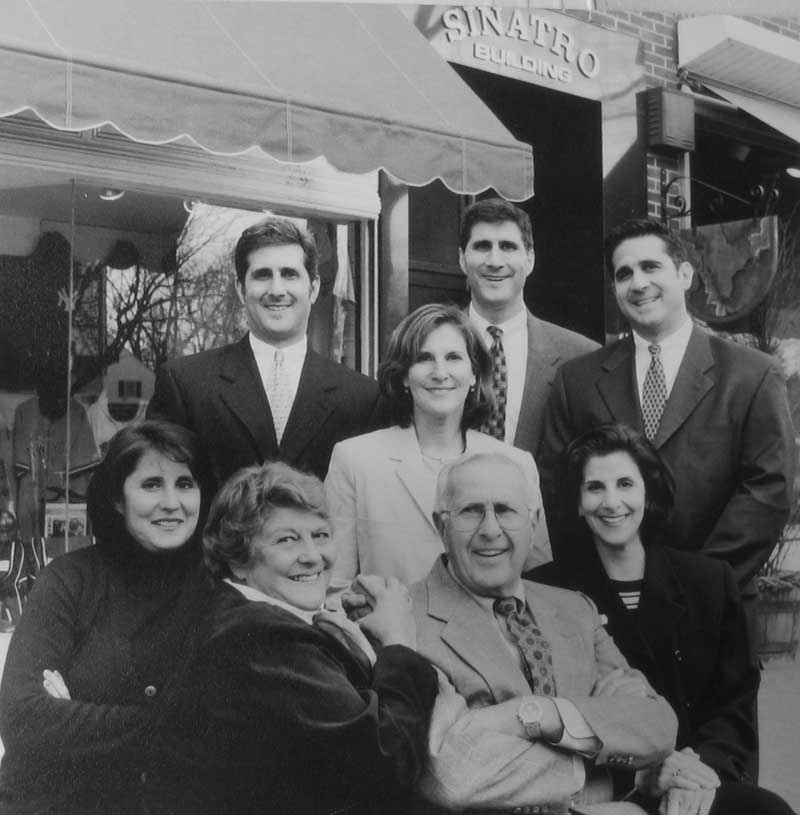 Mark, last row on right, with his parents and siblings in front of the Sinatro Building on LaSalle Road in West Hartford Center. Photo from the University of Connecticut in recognition of the Sinatro's support for UCONN.
One of the many accomplishments of which Mark deserves to be proud is his leading role in creating UNICO's sports award fund raising dinner in honor of Coach Jim Valvano and the V-Foundation. Started locally, using Mark's energy and connections this has become a major, nationwide fund-raising effort of UNICO benefitting the V-Foundation's cancer research.
Here is what others have to say about Mark:

           "No Matter what he does, he does 100 percent."
            - Bob LaPerla, local businessman


           "His generous, passionate and team-oriented attitude is responsible
           for the growth and success in his business and is the reason why so many
           people want him on their team."
            - Michael Haeflich, past President of the Exchange Club


           "He is a very solid person.  Whenever anyone goes to him for
           fund-raising, he'll step up to the plate."
            - Lt. Stan Sliva, West Hartford Policeman and Exchange Club Member

Of course one man's vision cannot carry the entire town into the future. One man's vision, however, coupled with leadership, determination and drive can help the entire Town Council and the town rally around making West Hartford the best place on earth to live.